Alejandro
Ginevra
President of Gnvgroup
Alejandro Ginevra is one of the most renowned real estate developers in the industry and his prestige has transcended the borders of the country. He has built a successful professional career in over three decades of award-winning work. His passion for planning, unparalleled entrepreneurial personality and leadership, coupled with the family tradition, have led to important and innovative works.
He knew how to detect industry trends and introduced a new concept in Argentina, the Shopping Center, participating in the full realization of commercial projects nationwide.
Building construction Malecon, located in the Dock 1 of Puerto Madero, was a landmark in the City of Buenos Aires, considered the first intelligent and sustainable architecture in the country building. Receiving multiple awards and international prizes. Leading his flagship company Gnvgroup, he is currently working on an ambitious project, "Madero Harbour," a mixed-use undertaking in which sums up his experience in real estate and visionary creativity. Tireless seeker of vanguard and excellence, he has surrounded himself with architects,
"I believe that Harbour Tower came to broaden the horizons of its residents."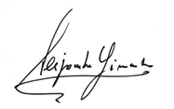 builders and consultants of the most prestigious national and international level. He has created a strong relationship with world-renowned architect Carlos Ott, who is developing one of the most emblematic projects in the country, "Harbour Tower".